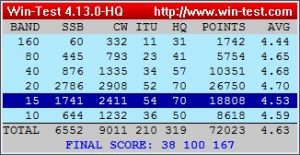 The Cyprus Amateur Radio Society (CARS) has endorsed the participation of a HQ station in the IARU HF World Championship 2015 contest (rules) with the special contest callsign C4HQ.
The objective of the contest is to contact as  many other amateurs, especially IARU member society HQ stations, around the world using the 160, 80, 40, 20, 15 and 10 meter bands.
This will be the third entry of a CARS HQ station in the contest, the previous two being in 1999 and 2009 as H2Q.
When:
11-12 July 2015
1200 UTC (15:00 local time) Saturday 11th July to
1200 UTC (15:00 local time) Sunday 12th July
Bands / Modes:
10, 15, 20, 40, 80, 160m
CW & SSB
Main Objectives
Top World position in highly competitive HQ (headquarters) station category
Through publicity events centred-around HQ entry promote amateur radio in Cyprus
Stimulate amateur radio activity from 5B stations
Network in real-time a number of top HF contest stations located all around Cyprus
Have fun!