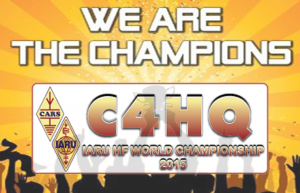 It is with great pride and joy that team C4HQ 2015 has been informed today of the official results of the IARU HF Championship 2015, and that the team has set a new world record of 37,160,322 points in the HQ category! The team C4HQ score difference from second place finisher TM0HQ was almost 30%!
It's worth mentioning that team C4HQ comprised of 6 stations and 20 operators.
Second place finisher, the French team TM0HQ achieved 28,806,855 points. The team was made up of 13 stations and close to 50 operators.
Third place was taken by the Spanish team EF4HQ achieving 26,427,204 points. The team was made up of 17 stations and 60 operators.
Congratulations to all the 2015 C4HQ team from a truly outstanding effort and an amazing result.
As you are all aware, besides winning, one of the main objectives of this effort was to promote amateur radio in Cyprus and inform the local population and general public about our hobby. With the results now official and having the endorsement and support of CARS, the team is now ready to continue this effort with a fantastic result to present.
More information regarding the team C4HQ 2015 effort can be found on the C4HQ website.